Breast Cancer
Coral Gables Hospital offers patients access to comprehensive and coordinated breast health, education, diagnostics, and treatment services.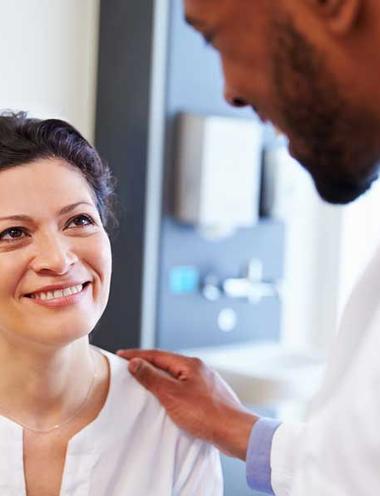 Mammograms at Coral Gables Hospital
Mammography is the most effective form of early detection for breast cancer. Comprehensive breast cancer screening services include digital diagnostic mammography and Myriad genetic testing for breast cancer.
Breast Care Services
Breast biopsy 
Breast ultrasound
Mammography 
Mammogram and breast examination guidelines:
Ages 20-40: perform a breast self-examination every month and have a breast exam by a physician every three years
Ages 30-35 with strong family history of breast cancer: get a mammogram
35 and over: get a baseline mammogram for later comparison
40 and over: perform a breast self-examination every month, and have both a breast exam by a physician and a mammography every year
What are the symptoms of breast cancer?
During your self-exam, look/feel for:
A lump or thickening in the breast
A change in breast shape
Discharge from the nipple
Skin changes (color, texture, consistency)
Puckering or dimpling
Nipple inversion (pulling inward)
Who's most at risk for breast cancer?
Because breast cancer is the most common type of cancer in women, every woman should consider herself at risk. However, the following factors put you at higher risk for breast cancer:
50+ years old
Previous diagnosis or benign breast disease
Family history of breast cancer
No full-term pregnancies
First pregnancy after 30
Early menstruation (before 13)
Late menopause (after 52)
High-fat diet 
Obesity